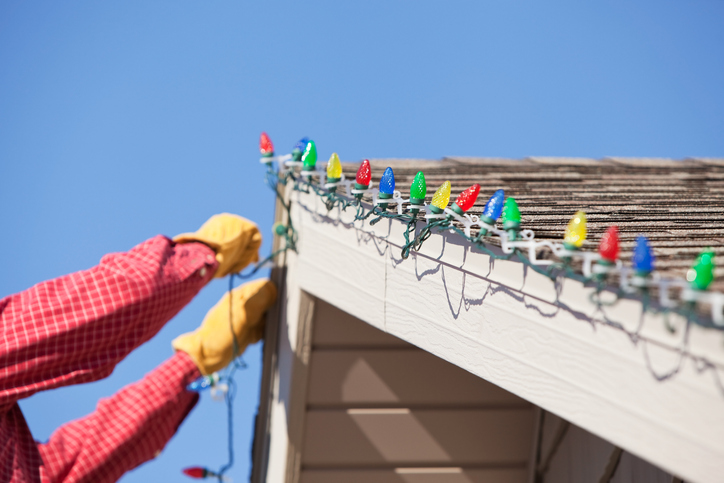 Getting ready to deck the halls for the holidays? Before you start hanging lights and other rooftop decorations, take a few moments to prepare. Decorating without a plan could lead to costly roofing repairs for your Rock Hill home. Eason Roofing company wants to help you celebrate without incident. Display your holiday cheer without harming your roof by following these tips:
Call roofers first – Before you set up any decorations, make sure you call a roofer to inspect for roof damage. A damaged roof can present many problems, including some that concern your personal safety. Call for roof repairs first, then decorate.
Untangle and check all lights and cords – Take time to unwind your lights and their cords. Inspect all your lights, cords, and outlets for signs of impairment. This is important because tangled or damaged lights can pose an extreme safety hazard for both you and your roof.
Use plastic clips and other accessories – There are helpful decoration tools and accessories that won't hurt your roof like staple guns do. For instance, plastic clips and zip ties are useful for attaching lights and other festive displays to your roof.
Avoid walking on the roof – Try to not walk on your roof unless you absolutely have to. Staying off the roof can help prevent roof damage – and help you stay out of harm's way.
Think you've damaged your roof while hanging up your holiday lights? Don't let this put a damper on your holiday spirit. Instead, call Eason Roofing for roofing repairs in Rock Hill, Fort Mill, Lake Wylie, and Clover, SC.
Eason Roofing is a residential and commercial roofing contractor serving Rock Hill, Fort Mill, Lake Wylie, Clover, and surrounding areas of North and South Carolina. Contact us for a free estimate on roof repair and roof replacement.