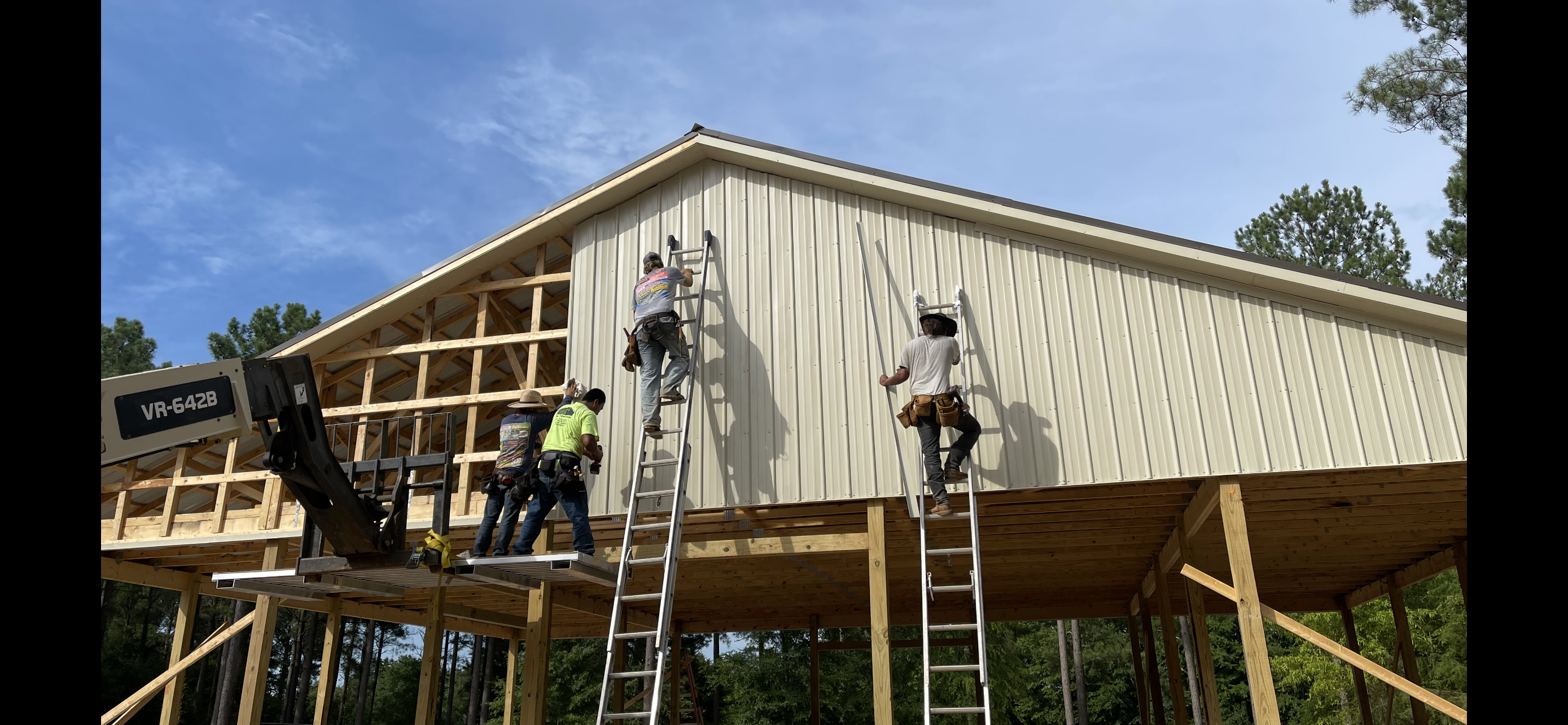 Installing new roofing with the help of a professional roofing company is undoubtedly one of the most crucial big home repairs. When upgrading a roof, there are numerous factors to consider. Still, you never want to let an old roof fail since water can ruin the interior of your home, including the attic insulation, painstakingly renovated kitchen, and basement family area with a big-screen TV. A damaged roof is one of the rare house issues that can be truly disastrous.
A new roof should not be taken lightly, nor should you put off making the necessary repairs. A single shingle can be easily replaced or repaired, but if one does, it's a good idea to have your roof evaluated to ensure the integrity of the remaining shingles.
Depending on the size of the area and the sort of repairs, you might require a permit in your state or municipality to repair a roof. Re-roofing work may also necessitate a permit. Before requesting quotes from roofing contractors, review these fundamentals when you notice that your roof is getting close to the end of its useful life.
The Standard Roofing Supplies
Your locality and personal preferences influence your choice of roof replacement options frequently. For instance, metal roofing is a common choice in some areas because of its fire resistance. In contrast, other regions' prevalent home designs can necessitate using a tile tool with Spanish influences. The roofing materials you can employ are also impacted by roof pitch (angle). For instance, wood shake shingles work well for roofs with a steeper pitch but are inappropriate for low or flat-pitch tops. The most typical options for residential roofing are as follows:
Asphalt composition shingles: These are inexpensive and simple to find, but their flat appearance makes them less appealing than other options. The most common roofing material is, by far, this form of roofing.
Wood shakes or shingles: Expensive but beautiful shingles. Despite their superior endurance, they shouldn't be used in areas where there is a risk of fire.
Metal roofing: Due to their resilience and fireproof durability, metal roofs constructed of steel or aluminum have grown in popularity in recent years. Specialized contractors are needed to construct these pricey roofs, but given their lengthy lifespan, they can save money in the long run. There are several different kinds of metal roofing systems, such as raised-seam panels and items that resemble composite shingles.
Slate roofing: Slate roofing is a luxurious, high-end alternative for roofing, but it is pricey and heavy. Slate roofs are quite dangerous to walk on and are challenging to fix when broken.
Composition slate: These artificial tiles are becoming more and more well-liked. They are constructed of 95 percent recycled materials, including rubber. As a result, they are significantly lighter and less prone to damage but closely resemble slate and other stone tiles.
Clay or ceramic tile: Although the Spanish-style red tile roof is still widespread in York, South Carolina, it is rapidly being replaced with metal and composite materials resembling Spanish tile. Other roofing materials can match ceramic tile's fire resistance with significantly less weight on the roof. The "half-barrel" shingle is so named because it resembles a cylinder that has been sliced in half lengthwise and is about 16 inches long.
The National Association of Home Builders states that more expensive slate, copper, and tile roofs have a lifespan of more than 50 years. Likewise, fiber cement shingles survive for almost 25 years, wood shake roofs for approximately 30, and asphalt shingle composition roofs for about 20.
With Eason Roofing, you can count on us to provide you with durable, high-quality roofing materials that will protect your home for years to come! In addition, we offer a wide variety of roofing options to choose from, so you can find the perfect fit for your home. So give us a call today to learn more about our roofing services!
Tear-off or Second Layer?
It used to be typical to, at least once, and occasionally twice, place a fresh layer of shingle roof over the old one. In some areas, total tear-off of the prior roofing is now necessary; hence this roofing practice is no longer permitted. Even in cases where layering is allowed, the advantages and disadvantages of adding a fresh layer of shingles on top of an existing one should be carefully considered:
Weight: The primary defense against adding more layers of asphalt shingles is that they can become too heavy for the roof structure underneath. Weight issues can affect the structural integrity of a building, especially older ones. A single slate shingles, a remarkably hefty material, is frequently equivalent to three layers of asphalt shingles.
Telegraphing: Another issue with adding new shingles over old ones is that you effectively duplicate any existing surface imperfections. There's probably a strong probability that you have bubbles, bumps, and waves that need to be fixed if you're considering installing a new roof. You risk having a horrid new roof if you cover up faults with new shingles. Going through the existing roof and fixing as many problems as possible before re-roofing is one technique to reduce this issue. Bumps, gaps, and protruding nails can easily be fixed with just a hammer, some roofing nails, and a few shingles.
Reduction of labour and waste: The main benefit of layering is that it requires less work. The technique requires more labor if the old layer is removed before a new one is laid down. When roofing experts handle the job, time is not an issue because they can strip most roofs in the morning. However, if you're doing the work yourself, there may be a compelling case for covering the old top.
Manufacturer's warranties: Certain roof types and manufacturers demand that roofs covered by warranties be stripped entirely to adhere to the terms and conditions of the warranty. Check the warranty requirements if the roof is still covered by one.
Expense factors
Depending on the roofing materials you select, the cost to replace a roof in your state will vary (ranging from cheap three-tab asphalt shingles to architectural shingles or even slate). Other elements that affect the price include your choice of a roofing contractor, your roof's pitch (steepness), and its square footage.
A three-tab composite roof for a modest house might be purchased for as little as $7,000 on the cheap. In the United States, the price to replace a conventional roof with architectural asphalt shingles ranges from $3.50 to $5.50 per square foot, including demolition, permits, garbage removal, and cleanup.
Take into account off-season roofing work.
You pay them to do your roofs because it's lovely to watch a well-organized roofing company work. While the ideal roofing season in most of the United States is from late spring to early fall, expert teams may prolong the work season and occasionally even roof when snowflakes are imminent.
In other words, there is no excuse for not hiring a qualified team to roof your home during the off-season. Given the low labor demand at these times, you might even benefit from lower prices. Having a sizable crew of skilled roofers that can complete the project in hours rather than days, thereby utilizing dry periods, is the key to fitting your roof job into the off-season.
Call us now!
Here at Eason Roofing, we offer a wide variety of roofing services that are sure to meet your needs. We specialize in commercial and residential roofing, so no project is too big or small for us to handle. We understand that your roof is a critical part of your home or business, and we take great pride in our workmanship. Call us today!